Alexandre Dubé, MSc
Research professional / Lab manager
e-mail: alexandre.dube.4 [at] ulaval.ca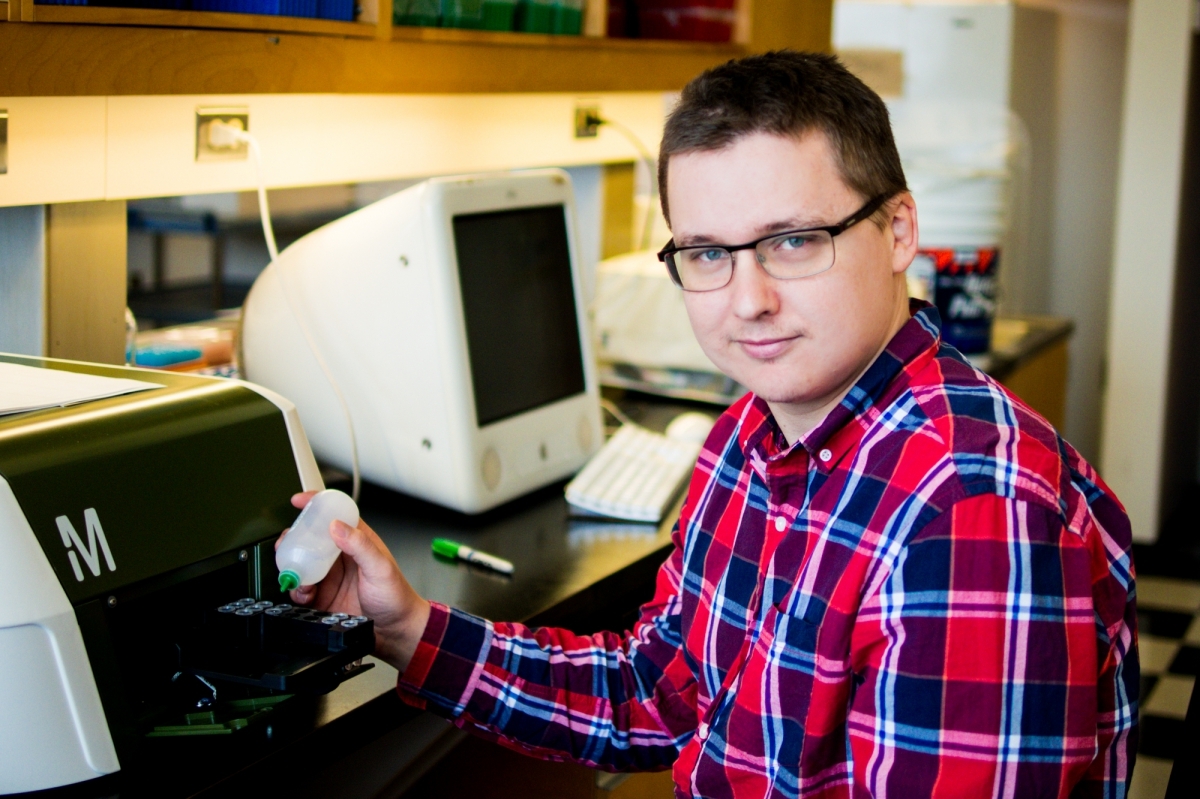 Biography
I started a bachelor's degree in Biochemistry in 2006 at Université Laval. During the first year of my degree, I realized that it was important to start early in research. I searched for an internship and found one in Dr Yves Bourbonnais' laboratory. The goal of my internship was to study the effect of mutations on the antimicrobial activity of a peptide. In the following semesters, Dr Bourbonnais introduced me to the beautiful world of Saccharomyces cerevisiae when he switched me to the project of a PhD student in his lab: Isabelle Gagnon-Arsenault. I learned to use this model organism when studying the activation and maturation of an endopeptidase (Yps1) involved in the response to stress and cell wall regulation.
Having enjoyed my time in research, I decided to start a master's degree in Biochemistry in 2009 also in Dr Bourbonnais' laboratory. During these two years, I studied the function of the N-entrance loop of Yps1p that showed me the importance of post-translational modifications in the regulation of cellular processes. At the same time, I also tried to identify genes implicated in the membrane anchoring of a specific class of protein: the glycosylphosphatidylinositol-anchored (GPI) protein. This part of my project gave me an overview of high-throughput research, since I looked at GPI protein secretion in more than 5000 yeast mutants. I had the opportunity to show my results in Vancouver at an international yeast meeting. My master's degree also gave me the opportunity to meet Christian, since he was on my committee.
In 2011, I finished my master's degree and decided to start working. It is at that point that Christian hired me as a research assistant. In his lab, I have learned about evolution and speciation and I have deepened my knowledge of protein functionality. After 4 years, I went back to Dr Bourbonnais' laboratory for 1 year during which I deepened my knowledge on the regulation of the metabolism of yeast and on lipids' central role in biological systems. I am back in Christian's laboratory and I now work to develop new techniques with the genome edition system CRISPR/Cas.
Research interests
I am particularly interested in understanding how a mutation in protein sequence can affect its stability and function. I use methods such as protein fragment complementation assays (PCA), CRISPR/Cas and experimental evolution to better understand these effects. Lately, I have been interested in understanding the effect that the environment can have on membrane composition and how a cell responds to an imbalance in lipid composition.